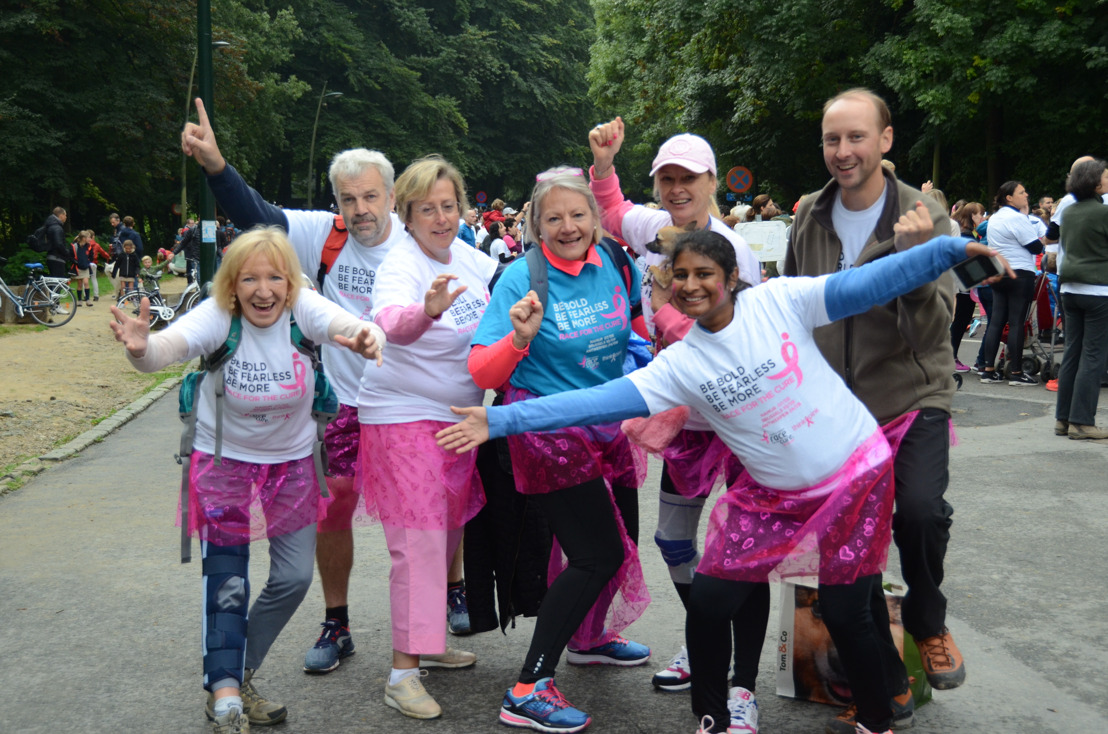 Recordeditie van de Race for the Cure Brussels: een sterk signaal tegen borstkanker
6.533 lopers en wandelaars aanwezig
Zondag 10 september 2017 — 6.533 lopers en wandelaars tekenden present voor de vierde editie van de Race for the Cure Brussels op zondag 10 september 2017. Plaats van afspraak was Ter Kamerenbos, het groene hart van de hoofdstad.
De Race for the Cure is het grootste evenement wereldwijd in de strijd tegen borstkanker. Deelnemers lopen 6 km of wandelen 3 km. Vzw Think-Pink, de nationale borstkankercampagne die op 21 september haar 10e verjaardag viert in de AB met Scala, Koen Buyse en Regi, staat in voor de organisatie.
Lotgenoten (mensen die getroffen zijn of waren door borstkanker) in roze T-shirts en hun entourage in witte T-shirts wandelen of lopen samen, en vieren zo het leven, staan stil hun strijd tegen de ziekte, betuigen steun aan lotgenoten die behandeld worden en herdenken zij die er niet meer zijn. Voor de eerste keer kunnen deelnemers zich verenigen in teams, onder leiding van Team Captains in blauwe T-shirts. Dat het systeem een absolute meerwaarde betekent, bewijzen de recordcijfers van deze editie.
Na het sportieve deel van de dag genieten deelnemers van tapas en uiteenlopende activiteiten. Voor de lotgenoten is een VIP-ruimte, waar tapas, cava, massage en make-up voorzien zijn in een rustgevende sfeer.
De volgende editie van de Race for the Cure vindt plaats in op 24 september in Antwerpen. Inschrijven kan via think-pink.be/raceforthecure.
Foto: Philippe Santantonio en Christophe Hennuy