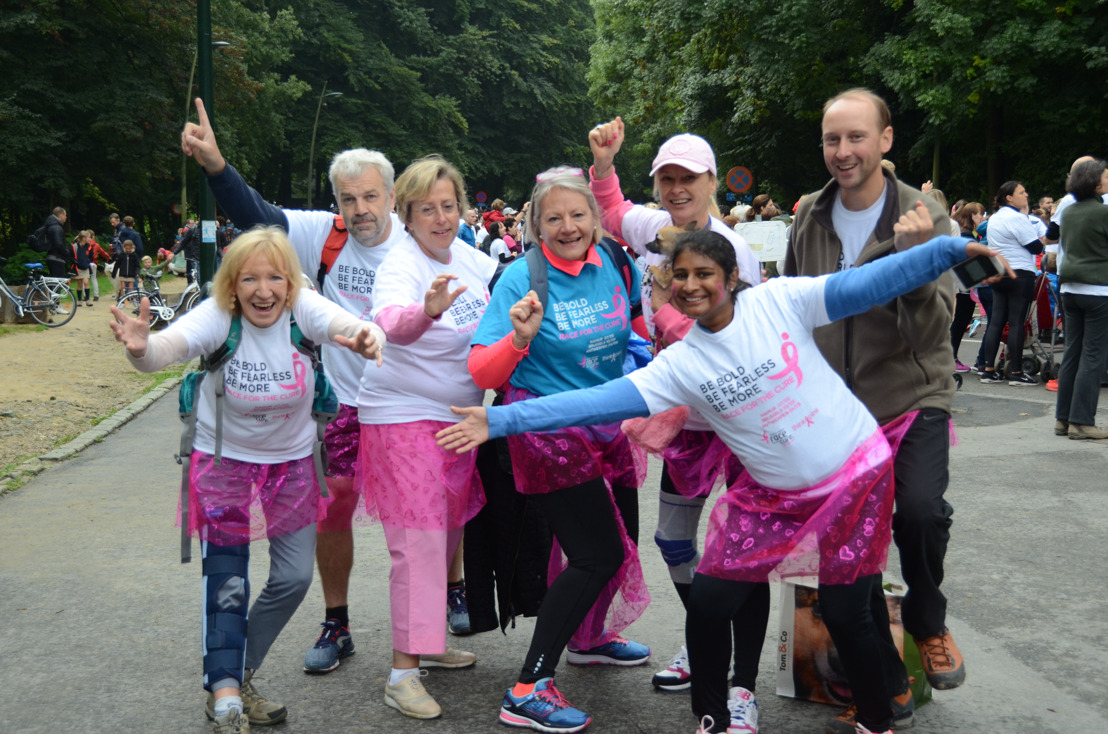 Un record pour cette édition de la Race for the Cure Brussels : Un signal fort dans la lutte contre le cancer du sein
6 533 participants ont répondu présent
Dimanche 10 septembre 2017 — 6 533 participants ont répondu présent ce dimanche 10 septembre au Bois de la Cambre, le cœur vert de la capitale, pour la 4e édition de Race for the Cure Brussels.
La Race for the Cure, c'est l'événement sportif et solidaire à ne pas rater. Elle est organisée en Belgique par l'asbl Think-Pink qui fêtera ses 10 ans à l'AB avec Scala, Koen Buyse et Regi le 21 septembre prochain. Cette course de 6 km et marche de 3 km est le plus grand événement mondial pour la lutte contre le cancer du sein.
En courant ou en marchant, les victorieux ­­– personnes luttant ou ayant lutté contre le cancer du sein – (t-shirt rose) ainsi que leur entourage (t-shirt blanc) fêtent leur combat contre la maladie, soutiennent ceux qui combattent toujours et commémorent ceux n'ayant pas eu cette chance. Cette année, les participants pouvaient s'unir en équipe mais pour la première fois, chaque équipe avait à sa tête un Team Captain (t-shirt turquoise). Un système qui a fonctionné à merveille et qui a permis de rendre cette édition une édition record.
Après la course, tout le monde a pu profiter d'une dégustation de tapas et d'activités en tout genre. Pour les victorieuses, un espace V.I.P. les a accueillies avec tapas gratuits, cava, massage et elles ont
La prochaine édition de la Race for the Cure aura lieu le 24 septembre à Anvers cette fois. Inscrivez-vous vite sur think-pink.be/raceforthecure.
Photo : Philippe Santantonio et Christophe Hennuy